COMPANY RETREAT ACTIVITIES
We believe it's important to create time for work-related, deep-dive discussions and non-business activities that are fun and exciting. The more out-of-the-ordinary the better. At Sundance, we open company retreats with a wine and cheese overview and some get-to-know-you time at the Freiberg's home, located five minutes above Sundance Resort.
Then, the next three mornings are devoted to digging deep into issues related to the retreat objectives. Afternoons are for adventure: kayaking the Provo River, zip lines, hikes, and touring the wilderness in off-road vehicles. For three of the four evenings we share meals and de-brief the activities in one of Sundance's award-winning restaurants. The other evening is free time.
The goal is to make the discussions relevant to the growth of the business and to engage in activities that are memorable, bonding and fun. We want people to walk away from the entire retreat and say, "WOW! Let's do that again!"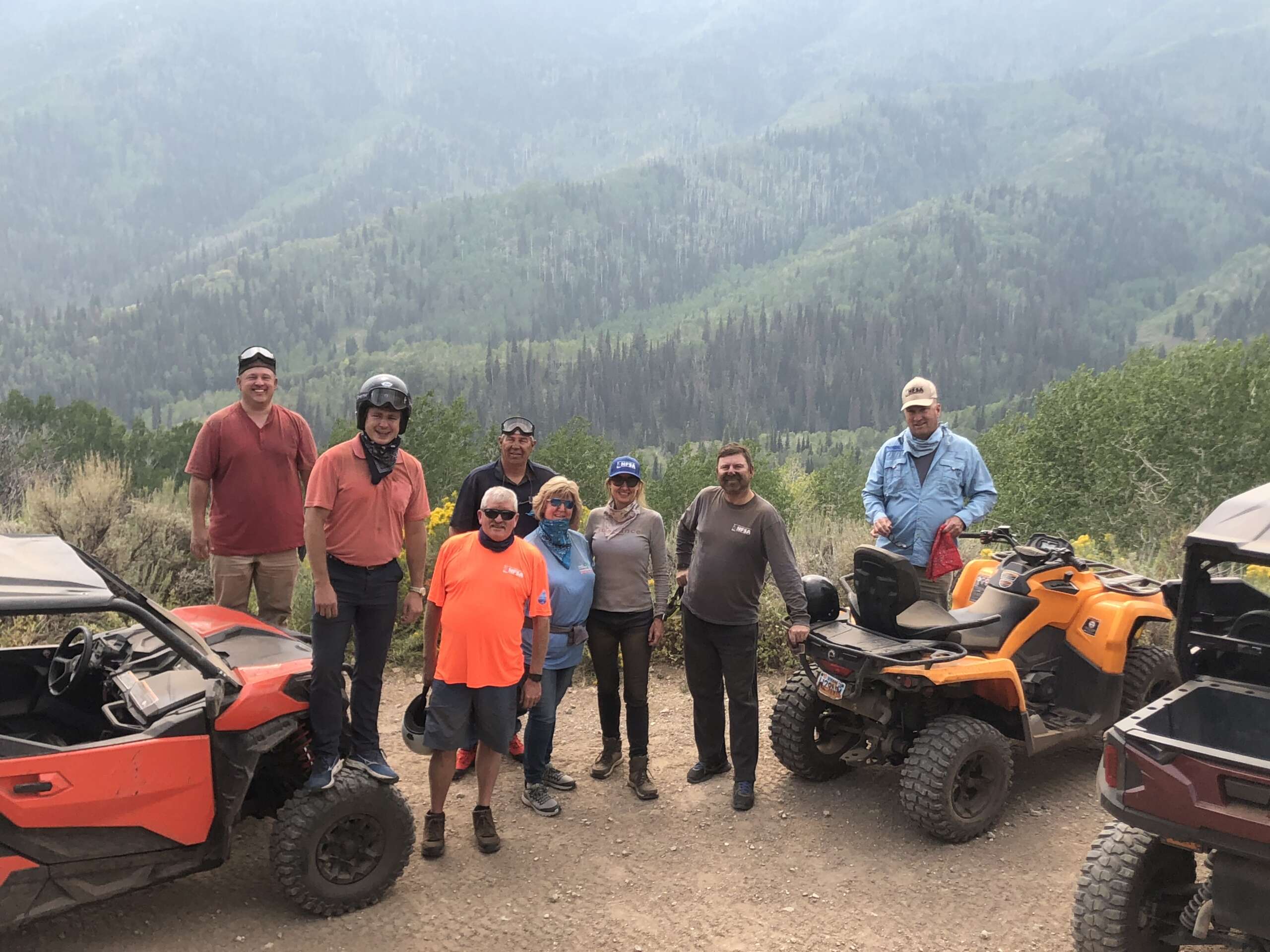 Schedule a Call with Jackie & Kevin
Interested in learning more about scheduling a team retreat? Fill in your contact information below to schedule an exploratory call.
Sundance Zip Tour
Get ready to soar over 2100 feet of vertical drop at Sundance UT. The Sundance Zip Tour is recognized as one of the most exciting and scenic zip tours in the world and one of the highest and longest zip lines in the United States.
After a 3-2-1 count down, you'll launch and ride side-by-side on the zip line's double cables.
While fully in control of your own speed, you can go full throttle at speeds of 65 miles per hour or you can stop mid-line to take in the breathtaking vistas. The experience is exhilarating. The takeaways are priceless.
Scenic Chairlift Ride & Lunch
Your team will hop on two different lifts, sit back, relax and enjoy the colorful, panoramic views as you ascend to the top of Sundance Mountain. There, you will have a casual, yet epic lunch at Bearclaw cabin.
While enjoying refreshments, tacos, burritos, or a heaping plate of nachos you'll feel like you are on top of the world as you take in the spectacular 360-degree views of Heber and Utah Valleys.
Your adventure continues by riding the lifts back to the base of the mountain and discussing your team challenges while taking in more breathtaking views of the Wasatch mountain range.
Scenic Mountain Vistas
SUMMER: HIKING
The seasons at Sundance never disappoint. The scenic trails will guide your team through mountain forests and open meadows.
You'll gear up and head out for a three-mile out-and-back hike to Stewart Falls, one of Sundance's most popular hikes and one of the most scenic and photogenic waterfalls in northern Utah. The Falls are over 200 feet high and spill over in two tiers.
The brave at heart always slip under the falls for an epic refresh and recharge!
WINTER: SNOWSHOE
For this afternoon's adventure you'll strap on a pair of snowshoes and within minutes, find yourselves in the middle of a peaceful, yet majestic "nowhere."
As a team, you'll explore parts of a dedicated trail system winding through oak, aspen, and conifer trees. Whether the snow is falling or the sun shining, the place will give you a fun and refreshing team experience.
Known for views of Mount Timpanogos and the stunning Stewart Falls in the distance, the snowshoe and cross country trails open up to some of the most beautiful scenery the mountains have to offer.
Wasatch Mountain Adventures
SUMMER: ATV
As the saying goes, play hard, work hard. And since Utah is celebrated for its recreation and adventure, this is your chance to play hard on dusty trails as you navigate the Wasatch and Uinta National Forests.
Get ready for an afternoon of high adventure. You''re team will saddle up, side-by-side, in two seaters and roar through the backcountry taking in scenic vistas, crossing river beds and climbing hills on ATVs.
If you are new to ATVs, you'll be amazed at where these machines can go.
WINTER: SNOWMOBILE
The winters are also great for team adventures. And since Utah is celebrated for its recreation and adventure, this is your chance to play hard on wintery trails in a snowmobilers paradise.
Get ready for an afternoon of high adventure in the Wasatch and Uinta National Forests. Each team member will hop on a sled and together you'll roar through the backcountry taking in scenic vistas you can only get to by snowmobile. This is a fun way to build chemistry and make some great memories in the mountains!
Action Sports
SUMMER: KAYAK
For this afternoon's adventure you'll strap on a life jacket and hop in a tandem kayak. Together you'll float the mild rapids and paddle your way down the Provo River. Known as one of the iconic fly fishing rivers in the west, the Provo in the Fall is spectacular!
Kayaking the Provo River is a refreshing and rejuvenating way to take in Provo canyon and float above what is considered to be some of the best trout fishing in Utah.
WINTER: SKI/BOARD
Sundance isn't one of the largest resorts in the country, but it is certainly one of the most memorable. In its Readers' Choice Awards, the worlds best traveled readers weighed in, in record numbers (600,000) on Conde Nast Traveler and named Sundance Mountain Resort as the "#1 Ski Resort in the U.S. and Canada."
A well-kept secret with 450 acres of skiable terrain, Sundance is free of crowds and has something for everyone—easy beginner runs, cruiser groomers, and steep, technical runs—bumps and no bumps. And, for those who love to hunt for those hidden staches on deep days, Sundance has plenty of Utah's coveted dry, untracked powder.
Hear from the National Fire Sprinkler Association as to how their adventures at Sundance helped inspire their leadership team.

Book a corporate Retreat
Each company retreat is planned and built around your specific needs and schedule. Reach out to plan a date and get started.